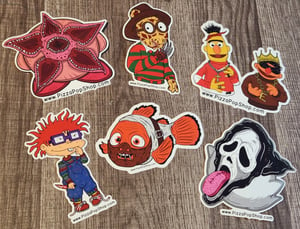 $

10.00
Welcome people and people! I am so fluckin' happy to present you with the Pizza Pop Sticker Series. I took some of your favorite childhood characters and smashed them up with some of my favorite horror icons. Let's keep this new venture rolling, shall we? Support!!!
- "The Elwood City Slasher" (2.3 in x 4 in)
- "Finding Clarice" (4 in x 2.8 in)
- "Chuckie Play" (2.3 in x 4 in)
- "Legendary Street" (4 in x 3.7 in)
- "Dreamland Things" (4 in x 3.7 in)
- "Do You Like Scary Games?" (3.4 in x 4 in)
***Attention my International folks. Sorry if it seems like you're getting the bone on this one, but I'm not gonna have you pay a premium shipping price for these. However, place a different order and these just might get included.***
Please allow 1-3 days for Processing and Shipping.